Have you had your roof inspection completed?
As a home inspector you must know many different aspects of a home, how it should work, and how it should be constructed.  Here in the south (especially Mobile Alabama), the roof of a home takes a lot of punishment from freezing weather, hurricanes, hail, rain, and extremely hot conditions.  All of these conditions will cause different types of damage to a roof and its longevity.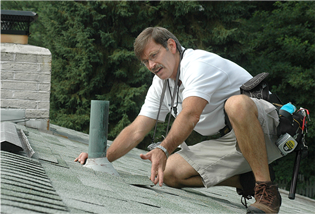 Things to know about a Roof Inspection:
When conducting a roof inspection one of the first things I look for is the condition of the shingles and then the roof penetrations.  Whether it is for a chimney, exhaust vent, or plumbing vents, if your roof is going to leak, usually it is in one of these areas.
Roof jacks (the lead or neoprene boot around plumbing vents) is usually the first to go bad in my opinion.  Neoprene boots will decay over a period of time and will allow water intrusion into the home.  Once this happens the roof sheeting will absorb the water and slowly begin to rot.  Water may also travel down to the ceilings causing staining and bowing of the sheet rock.
I always recommend my clients to get up on the roof at least once a year and take a look around.  If you don't feel comfortable doing that, I recommend using binoculars and look at it from the ground.  Spotting issues and correcting them quickly will prevent much larger problems down the road.
Cost of not have a Roof Inspection:
Replacing roof sheeting or cutting out water damaged ceilings in your home is not an easy task.  Many contractors will charge hundreds of dollars to make these repairs.  Replacing a bad roof jack right when it is beginning to fail will cost around $75 to $100 dollars to install.
There is a new product out on the market now sold at some hardware stores that will allow a person to make repairs to bad roof jacks without the need to hire a roofer or handyman to make the repairs for you.  These covers are guaranteed to last for several years and do not require any tools. Repair of these covers can be completed in about 5 minutes.
For more information concerning this topic or other problems you may be having, or if you need an inspection on your home, give me a call.
Kevin Graf
N-Spec LLC
Home Inspection Services
(251) 776-2788